Materials for Installing Window Treatments
Most but not all drapery hardware makers include everything you need to install the product. But alas some of the hardware is imported with screws so cheap you could bite the heads off without breaking a tooth. I will give you one guess as to the country of origin.
Some of the decorative rods come with really pretty screws that just aren't long enough to reach the wood behind the drywall. The safety of you and your family require that heavy items mounted above your head should be as secured as possible. For all of these reasons proper preparation requires a quick trip to the hardware store.
The most frustrating part of working around the home is stopping for the multiple trips back to the hardware store. Stocking up with enough of everything to install a room full of items won't set you back more than a few bucks. If you don't use it, you can take it back at your leisure or save it in that coffee can in the closet.
To install any item directly to a wood surface you need # 6 x 3/4" screws. To install any item on drywall where there is a header or stud you will need # 6 or # 8 screws that are 1 1/4 -- 1 1/2" long. On plaster walls where there is a header or stud you will need screws in the 1 1/2 - 2" range.
Be aware that any time you drill or screw into walls that there is always a chance that you might encounter an electrical wire, water, gas, or Freon line, or other concealed component of your home. If you don't connect with wood by the time you have penetrated the wall by 3/4 of an inch or you encounter anything where the screw seems to hesitate, proceed slowly or stop and investigate. As a general guideline, but not as an absolute rule, your caution should increase in direct proportion to the distance from the window. I have seen unprotected Freon lines placed within four inches of a window. I actually ran a screw completely though one once.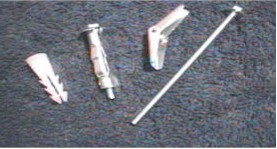 You may also need some type of hollow wall fastener for areas where there aren't any studs or headers. There are literally hundreds of hollow wall fasteners on the market today. The current marketing strategy is ease of use. I have tested some of them and replaced many of the newer styles that others have installed that failed. It is not my intention to single out any particular manufacturer for criticism so I have selected the following three general types to illustrate a point. I use each of these on a daily basis for different selected uses. You are viewing these from the perspective of a mouse inside the wall. Pictured from left to right are: Plastic Plug, Molly Fastener, and a Toggle Bolt.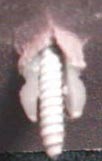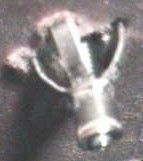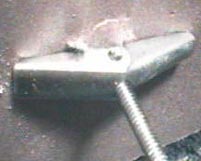 One look at the pictures above should quickly convince you that the toggle bolt has superior holding power. It is the only thing I use for draperies, mirrors and heavy pictures. They are made in different lengths but a 3" toggle will work in any situation where a toggle is the correct choice.
Masonry walls present a different challenge and will be discussed in a separate article.
This article or portions of this article were previously published in a significantly different form on two websites owned by the author, window-wizard.net and lexkyweb.com/windows. Those articles are no longer available at those locations. Copyright is renewed with this revised publication (01-31-2010).
---
More in Window Treatments:
Choosing a Mounting Style for Blinds or Shades
.........
Read More
How to Measure for Pleated Draperies
.........
Read More
How to Install a Traverse Rod Part One
.........
Read More
How to Install a Traverse Rod Part Two
.........
Read More
Installing Window Treatments on Masonry Walls
.........
Read More
Measuring Blinds Frameless Windows
.........
Read More
Measuring Doors for Blinds
.........
Read More
Tools for Installing Window Treatments
.........
Read More
How to Convert a Traverse rod to One-way draw
.........
Read More
Are Interior Shutters A Good Choice for You?
.........
Read More
Installing Blinds
.........
Read More
Measuring For Blinds
.........
Read More
---
Or to discuss this article or ask a question.